Olympia Monthly Meeting of the Religious Society of Friends has noted with deep concern the Ugandan Government's passage of a law targeting the LGBTQ population. This law has created a climate where the life, health, and freedom of all LGBTQ Ugandans and those who help them are at immediate risk. We are appalled at hearing about those who have already been kicked out of their homes, denied basic rights, abandoned, beaten, imprisoned, or killed, or who live in constant fear.
Olympia Monthly Meeting has been called to create a "New Underground Railroad" project – "Friends Ugandan Safe Transport Fund" to aid LGBTQ Ugandans who are fleeing their homeland for their lives and safety. We have been given an opportunity to provide direct assistance that will save lives. In the first few weeks of this effort we have helped 17 LGBTQ Ugandans get to safety and freedom. Many others remain at risk, and are trying to escape.
We call on all Friends, both individually and in their Meetings, Friends' organizations, and all people of good will, to help us in this effort. For more information, contact Gabi Clayton, Co-Clerk, Peace and Social Justice Committee, Olympia Monthly Meeting.
###
You can make a donation to the Friends Ugandan Safe Transport project through PayPal: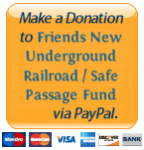 Or send a check to:
Olympia Friends Meeting
3201 Boston Harbor Rd. NE
Olympia, WA 98506-2800
Make checks out to "Olympia Friends Meeting" and put  "Uganda" in the memo line. Please let us know through the form below that you have sent a check so we can use that information to plan.
Thanks!