Olympia Monthly Meeting of the Religious Society of Friends (Quakers)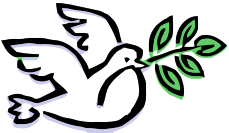 Olympia Monthly Meeting of The Religious Society of Friends (Quakers) is an active spiritual community that is diverse, welcoming and inclusive. The spiritual center of Olympia Friends Meeting is its Meeting for Worship. We believe the Light is available to all, and all may minister. Quakers respect the sanctity of all human beings and the equality of all, value diversity in opinions, and oppose all kinds of violence while seeking non-violent solutions to conflict. We attempt to live by our Quaker Testimonies of: simplicity, peace, integrity, community, equality, and stewardship/service.
Meeting for Worship
Everyone is welcome! We worship every Sunday morning at 10 a.m. in person at the Meetinghouse and on Zoom – see the sidebar for details. You will find information about our Meeting and about Quakers in general on this website. And please check our calendar for other things coming up.
In Meeting for Worship, we gather, still our minds, open our hearts, and settle into a reverent and expectant silence to wait upon the Light. We believe that in this opening of our hearts to the Spirit, we are contributing to the common worship of all present, as well as to our own renewal. This time may pass in silence, or individuals may be moved to speak briefly out of the silence. Leaving a space of time between each person speaking allows the ministry of each to be respectfully heard.
On the third Sunday of the month a query is read that stimulates sharing during Meeting for Worship.
Meeting ends after an hour when a designated Friend shakes hands with a neighbor. We then have introductions and announcements. And once it is safe again, our in-person Meetings will be able to have social time with coffee, tea, and light refreshments.
There are sometimes special presentations or discussions held after Meeting for Worship. Dates and times are announced at Meeting and in the Newsletter, and all are welcome.
Meeting for Worship for Business
On 2nd Sundays the Meeting for Worship for Business is held at 1 pm on Zoom, guided by the Meeting's clerk. All are welcome. Local Quaker meetings are called "monthly meetings" because they gather once a month to conduct business.
About Us
Olympia Friends Meeting is part of the liberal, unprogrammed branch of Quakerism. All who might find the Quaker Meeting for Worship helpful in their spiritual search are welcome. We come from a wide variety of religious backgrounds; most of us were not raised as Quakers. Although the roots of the Religious Society of Friends (Quakers) are in Christianity, some individual Friends do not call themselves Christians. Today's Friends are very comfortable with the wide range of beliefs in any one Quaker meeting.
The Meeting welcomes non-traditional families and people of all sexual orientations and gender identities.
If you have never been to a Quaker meeting before, do not expect to find women wearing bonnets or men dressed like the guy on the Quaker Oats box!
Children's Program
Our children are an important part of Friends Meeting. The Children's Committee has put together some events on Zoom. Contact us for information.
We have a children's program and children are always welcome! On Sunday mornings, about 10 minutes after the beginning of Meeting for Worship, the children are led out for the Children's Program.
Meeting events – See our Events, Gatherings and Groups page here.
Our Meetinghouse
Olympia Friends Meeting's meetinghouse is at 3201 Boston Harbor Road NE; Olympia, WA 98506-2800. Coming from Olympia it is just past Squaxin Park (formerly Priest Point Park), first driveway on the left beyond the intersection of Boston Harbor and Flora Vista roads.
The building originally housed the Olympia Salmon Club, an environmental and educational group devoted to preserving wild salmon runs.
We acknowledge that this land and water is the traditional territory of the Steh-Chass people. The Steh-Chass people are of the Squaxin Island Tribe. The surrounding mountains, valleys, shorelines, and waterways are imbued with their presence. We seek to nurture our relationship with our Coast Salish neighbors and our shared responsibilities to this place, their homelands, where we mutually abide.
Contact Us
The Meetinghouse phone number is (360) 561-7067. If you call outside our Hearthkeeper's office hours (generally Tuesday and Thursday from 3 to 5:30 p.m., and on Wednesdays by appointment), please leave a message and she will return your call.
Use the contact form here on our contact page to send us a message.
Meeting's directory here – secure, login required.