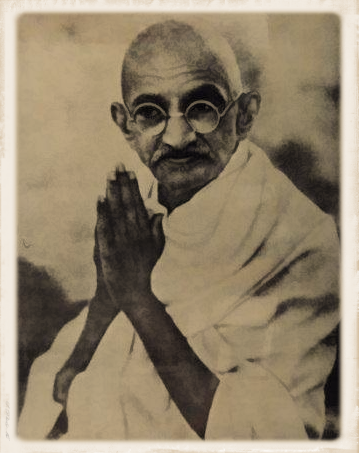 Three Sessions: Monday evenings, January 31, February 14, February 28, 6:30-8:00 PST

Gandhi provided us with a set of concepts and principles that have strong relevance to our lives today. We will use these as jumping-off points for self-reflection and discussion. No reading required, though there will be plenty of suggestions. Note: this series will not include an introduction to Gandhi's life and work, but will focus on Gandhian values and their potential applications.

January 31 – Satyagraha (truth-grasping). We will explore some of the background to Gandhian nonviolent action.

February 14th – Sarvodaya (welfare of all). We will explore how Gandhi's commitment to the "last man and last woman" can inform our lives and practices.

February 28th – Swadeshi/Gram Swaraj (self-reliance and the village republic). Are there different ways we can imagine a good society, one without violence and exploitation? (One could do worse than familiarizing yourself with Hind Swaraj before the session, though it is in no sense required – https://www.mkgandhi.org/ebks/hind_swaraj.pdf )

The sessions are absolutely free, though contributions to Friendly Water for the World will be gratefully welcomed. www.friendlywater.org/donate

David H. Albert is a member of Olympia Friends Meeting (Quakers), under whose auspices this series is being offered. For a lifetime of work around the world, David was awarded the 2021 Jamnalal Bajaj Foundation International Award for Promoting Gandhian Values Outside India, following in the footsteps of Nelson Mandela, Desmond Tutu, Danilo Dolci, and George Willoughby.
Download the flyer with this information here. (PDF format)
Use this form below to register or to email David Albert for other information.